Home

›

Games

›

sweet state
Summary of Game
Now on mobile!

Time to inject some excitement, sex appeal and humor into your gaming! It's time to say goodbye to shining gems, cutesy gardens, aging dragons, and tedious quests. Say hello to double-D measurements, triple-X ratings, bombshell actresses, and a healthy dose of adult humor!
Key Features
Welcome to Pornwood, your new home. This glitz and glamour town is a den of sin where all your fantasies aren't merely possible but also, in the expert hands of the right girl, likely to be improved!

*Build a sex empire!*
Become the greatest pimp Pornwood's ever seen by taking to the streets and bringing a world of hurt to other pimps. Claim their patch and their girls. Invest in real estate to ensure all those lonely sailors, "handy"-men and pizza delivery guys get plenty of bang for their buck! But be warned: You're not the only pimp in town who wants to make it big!

*Lights, cameras, toys, action!*
The adult film industry is booming in Pornwood and it's time to dust off your old iPON camera. Invite some lady-friends to go wild and get shooting. Whether it's steamy sessions at the photo studio or a sequel to the award-winning "Moaning Lisa's Smile", become the most acclaimed porn director in the whole of Pornwood by scouting for new talent and breaking the law by finding the most outrageous public location for your next nut-buster!

"I was young and needed the money"
Give this sentence a new meaning as you show off your penile kung-fu skills to cruise ships full of meat-hungry cougars. Who wants a 9-5 job when you can make a living by nailing a smile onto the lips of wealthy but unhappy housewives?

*United we pimp!*
Get ready for some intense Player-versus-Player action as your gang tries to take over Pornwood. Participate in Fuck Off contests and Gang Wars as you battle for position and resources.

Inspired by classic tongue-in-cheek games such as Lula: The Sexy Empire and Leisure Suit Larry, Sweet State will make you roar with laughter and have you double-checking the room every few seconds for nosy bosses and girlfriends. This game is not work-safe, but who wants that anyway? The only things safe about this game are the condoms!

Rated B for Badass!
Game Information
Languages:

Deutsch,

Russian,

Japanese,

English,

Italian,

Français,

Polski,

Romanian,

Español

Release Date:
System Requirements
Platform: PC/ MAC

OS: Window 7 (or later)/ Mac OS X 10.9 (or later)

Internet Browsers:
Google Chrome 46+
Firefox 40+
Safari 8+
Internet Explorer 11+ (not recommended but supported)
Buy Game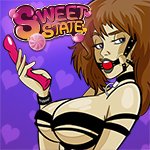 Language: Deutsch, Russian, Japanese, English, Italian, Français, Polski, Romanian, Español | OS:
You are missing 0 gold to complete this purchase using Nutaku Gold
---
Select payment type
Taxes may apply or be included
Uh Oh, Payment Error
There was a problem completing your purchase.
Please try again
---
Select payment type
Your Purchase is Almost Complete
Your order has been successfully received, but we still need additional time to receive confirmation from your financial institution.
This should take a few hours or days.
You will receive a confirmation email once your purchase has been processed.