Home

›

Games

›

slutty journey

Requires Android Device
In order to play this game, you must have an Android device. Alternatively you may use an emulator to play on your desktop.
Add to Favorites
Summary of Game
STORY
In a world without men, how can a lustful maiden survive? Can a human help her reach Cock Heaven? Experience a world full of erotic demons and goddesses, as you delve into a hot adventure surrounded by women in need of fulfilling their sexual desire.
In this game, you will play a human who got lost and reached the Lost Border, where he meets maidens who have been sent into exile.
Punished for refusing to bear children, Sun Wukong rebelled against the tyranny of Heaven and is now working hard to transport herself and the other Goddesses through the Gate to the Human World.
Slutty souls by nature, she and the other Goddesses are also working hard on getting some sweet loving from the only guy around: you! Deprived of any partner since they were casted away, they now look to you for satisfying them, so don't let them down!
Now that you have arrived, the maidens will use you to recover their strength and pass through the Gate to the Human World. In order to succeed, they will summon other Evil Maidens to defeat the Celestial Troops, the elite guards that defend the gate to the Human World.

GAMEPLAY AND OBJECTIVES
Your goal is to summon and upgrade maidens who will help you win all the battles and move on to the next level in order to finish the game.
The Stage Section is composed of two difficulties: Normal and Hard. Both Normal and Hard Modes have 5 chapters. In Normal Mode, each chapter contains 10 levels, while in Hard Mode, each chapter contains 4 levels.
The battle system is element-based, so make sure to check what's required before jumping into battle.
Aside from deciding the elemental combos, you also need to enhance your girls' Combat Power. There are four ways to upgrade your character: Bond, Advance, Level Up and Evolve. Powering up your ladies will increase their stats and make them more efficient in battle.
In order for your girls to Advance, you need to gather specific materials and spend some Gold. In order to Evolve, Evil Maidens need fragments, which increase Star Level. The Star Level influences Evil Maidens' skill level. Fragments can be obtained through summoning, playing events, or by completing missions. Since each character possesses different skills, you need to analyze each and every one in order to form a strong unit.
Gear up your lewd ladies, send them into battle and watch them kick some serious ass!
+

Read More
Key Features
FACTS AND FIGURES
○ Brave more than 14 Story chapters, with both Normal & Hard mode stages
○ Seduce gorgeous Goddesses and subdue lewd Evil Maidens
○ Enjoy professional voice acting for an enhanced Hscene experience
○ Feast your eyes on beautiful, kinky artwork and varied character design
○ Strategize your way through various game modes and challenges & make your way to the top
OUTRO
If you're a fan of turn-based RPG and are looking for a new kinky experience, you cannot miss out on the latest fantasy fan-favorite.
Taking inspiration from mythology, Slutty Journey brings fantasy creatures and historical figures to life in the form of the hottest chicks this side of Cock Heaven.
A huge bonus for this game is the attention to detail: between excellent character artwork and Hscene animations, to engaging sound effects and lewd voice acting, you'll never have a dull moment enjoying the sights and sounds of Slutty Journey.
Begin your adventure as a stranger to the man-less realm of the Lost Border, where maidens of all kinds have been exiled and have to live a sad, sex-less life. But now that their wait is over and their hero has arrived, they can take their time getting you to fulfil their wildest fantasies.
Get to know the denizens of this forsaken land and build up your own harem of hot spirits and sexy monster girls.
With the help of the sizzling hot Evil Maidens (who also want to jump your isekai'ed bones), lead your glorious Goddesses to victory and enjoy the smuttiest journey of your life!
The Nutaku Publishing team
+ Read More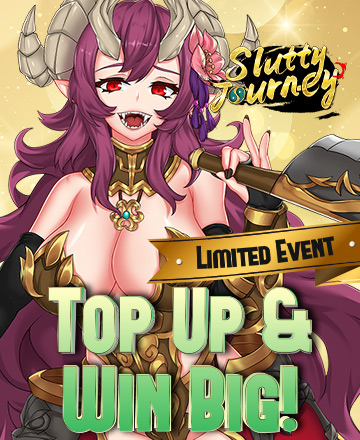 Game Information
Languages:

Version:

Download Size:
System Requirements
Android 7 or above
Installation Instructions
Download the game file and transfer it to your android device
You can download the Android Application installer (APP file) on your computer using the below link.
Simply transfer the APP game file to your mobile device using a cable or WIFI and install it.
Download the APP on computer here
---
Download to your android device by visiting this page on your device
Visit this page on your mobile device and download the game application file directly onto your device.
Continue the Download with our Nutaku Android Store App
Update your games with one tap
Explore our library of Android Games
Play and manage your games from one place
Download Error!
Your game files are unavailable for download at this time.
Please refresh the page or try again later.
If the problem persists, please contact customer support
Download Error!
File not found.
Please refresh the page or try again later.
If the problem persists, please contact customer support