Senshis' Revenge
About Senshis' Revenge
Players become the Prince of the Kurustork Kingdom, who is being chased by the invadors of the Osen Empire.

The Prince leads the Kurustork knights, attempts to complete, improve and upgrade the loyalty of its knights.

While strengthening the military capability, you need to try and conquer the whole Continent of Sarutoga, and to fight off the Osen Empire.

Join our Discord https://discord.gg/UrWcuMG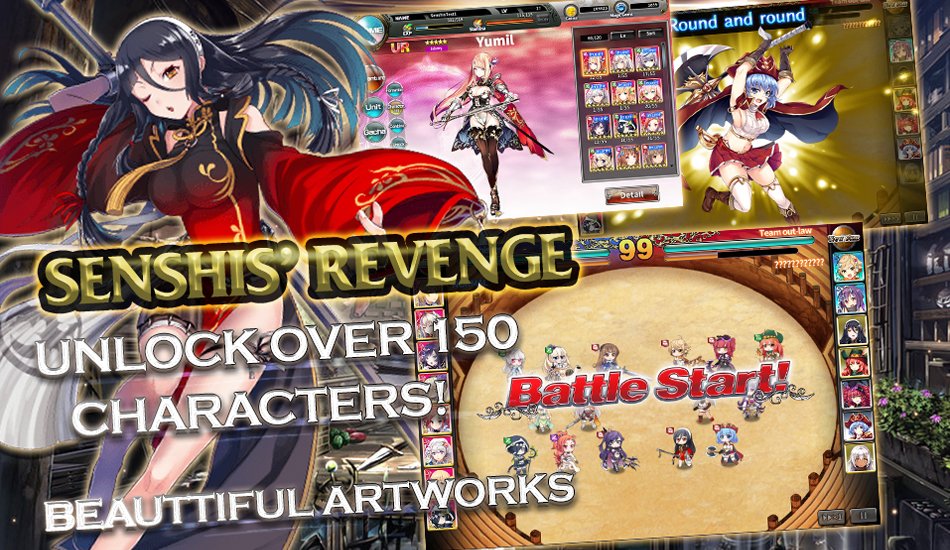 Senshis' Revenge
About Senshis' Revenge
Players become the Prince of the Kurustork Kingdom, who is being chased by the invadors of the Osen Empire.

The Prince leads the Kurustork knights, attempts to complete, improve and upgrade the loyalty of its knights.

While strengthening the military capability, you need to try and conquer the whole Continent of Sarutoga, and to fight off the Osen Empire.

Join our Discord https://discord.gg/UrWcuMG
Key Features
・Unlock 181 Girls each one with an H-scene.
・Be victorious in the arena
・Finish all 18+ Chapters in the game
・Build the perfect team
System Requirements
News and Updates
Valentine's Day Event
02/12/2019 05:04AM
Event1 [Tifa's Chocolate Spree]

[Tifa's Chocolate Spree] will start on 2019/02/05 (UTC-5 / EST)
■Event...
Senshis' Revenge New Update & New Server
01/15/2019 04:26PM
My Lords we have released a new Update and also launched a new server.

Here are the content updates
-Ev...
Christmas Events
12/25/2018 07:36PM
My Lord,

We have reached Christmas Time, and that means some special events.
Come join the game to play...
More News