Home

›

Games

›

RTS

›

armor blitz

Summary of Game
Welcome to Armor Blitz, where you are the General of a fantastical squad of WWII-era tank girls. Enter Valhalla, the afterlife for fallen spirits. When a mysterious force called The Corruption begins ravaging the lands of Valhalla, it is up to you to take command and vanquish it. Gather your army of tanks, enhance their capabilities in combat, and play strategically.
It's your move, General!
Key Features
Click here to join our Discord community!
Click here to check us out on Twitter!
Click here to check us out on Facebook!
* Unique Collectible Characters:
Each character you encounter throughout the game is carefully designed with their own history.
All tanks and enemies have hints of background related to their historical past. Level them up and build your relationship status to make them even stronger and to unlock their gorgeous hentai sex scenes!
* Strategic Real-time Combat:
This free sex game uses elements of traditional collectible card game mechanics with real-time combat. Lead your army to a pleasurable conclusion both on AND off the battlefield!
* Take Control of the Battlefield:
Use abilities, call in reinforcements, and carefully deploy your tanks to yield victory.
* Engrossing Story-line:
Follow an exciting storyline as you explore the world of Valhalla, the resting land of the bravest warriors.
* Amazing sex scenes:
Keep an eye on your girls and shower them with affection to get some incredibly hot sex scenes!
Enjoy this captivating adult game!
Also available on Android!
Game Information
Languages:

Release Date:
System Requirements
Play in Chrome, Firefox, or Safari.
Have 512 MB of browser memory allocated if using Firefox.
Also must be on a 64 bit Operating System.
Installation Instructions
Download the game file and transfer it to your android device
You can download the Android Application installer (APP file) on your computer using the below link.
Simply transfer the APP game file to your mobile device using a cable or WIFI and install it.
Download the APP on computer here
---
Download to your android device by visiting this page on your device
Visit this page on your mobile device and download the game application file directly onto your device.
Continue the Download with our Nutaku Android Store App
Update your games with one tap
Explore our library of Android Games
Play and manage your games from one place
Download Error!
Your game files are unavailable for download at this time.
Please refresh the page or try again later.
If the problem persists, please contact customer support
Download Error!
File not found.
Please refresh the page or try again later.
If the problem persists, please contact customer support
Buy Game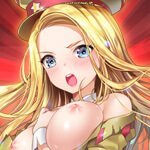 You are missing 0 gold to complete this purchase using Nutaku Gold
Requires Android Device
---
Select payment type
Taxes may apply or be included
Uh Oh, Payment Error
There was a problem completing your purchase.
Please try again
---
Select payment type