Home

›

fake lay

Summary of Game
Live out your wildest fantasies in the kinkiest Clicker/Dating Sim ever! Disguise yourself as a cab driver, film director, masseur, or any other job that can get you laid!
While you're at it, take some nudes of the girls you seduce, film some smoking-hot scenes and use them to make big money!
Do you have what it takes to get these lovely ladies to pleasure you in front of the camera?
Cherry, Ice, Geeky, Victoria, Dora, and many others are ready to become your picture-perfect girls on film!
Key Features
STORY

In Fake Lay, the kinkiest hentai game around, disguise is the key to faking your way to the perfect lay. Take the role of a lucky guy who inherited a cab, and sweet talk and seduce your way into the girls' hearts and pants.
Your main goal is pretty simple - drive around and pick up girls. Convince them to undress for you and to appear in your steamy porn videos.
As you work your way to the top as a self-made Casanova, you'll be able to train your disguise skills by selling the hot porn videos you filmed.
If you want to make it to the top, you'll have to choose the right mix of disguise and seduction to ensure that you get laid. Good luck!

GAMEPLAY AND OBJECTIVES

Fake Lay is available in browser or on Android devices. In this exciting porn game, you will get to drive around in a cab and hit on smoking-hot girls you pass by.
Your main objective is to undress the girls and to get them to film porn videos for you. You can do so by sweet-talking them, and by earning hearts while continuously clicking on the right places on their bodies. The higher a girl's affection level, the hornier she will get.
Talk to the girls, take them on dates, offer them alluring clothes and gifts, and you won't regret it. They will be more than eager to fulfill your wildest dreams once you sweep them off their feet. You'll get to film the girls in the craziest and wildest positions and they'll be begging you for more.
The more girls you seduce and level up, the more kinky scenes and exciting new features you will unlock, and the richer you will get.
What are you waiting for? Disguise yourself and fake your way to the top!

HENTAI

Feast your eyes this marvelous hentai artwork! You will get to experience a lot of wild and hot positions with the girls you seduce. Live out your wildest fantasies in the kinkiest Clicker/Dating Sim ever!

FACTS AND FIGURES

- FAKE YOUR WAY TO THE PERFECT LAY! Disguise yourself as a cab driver, casting agent, film director, masseur, or any other job that can get the girls you meet to show you a good time!
- WATCH WHAT YOU SAY TO KEEP THEM GIRLS WET! MAKE YOUR WAY TO THE TO AS A SELF-MADE CASANOVA!
Train your skills as a casting agent, film director, masseur, and many other fake jobs that can help you score!
- FILM THE GIRLS AND MAKE MONEY OFF YOUR ART!
- CHARM THE GIRLS AND MAKE THEM SEE THINGS YOUR WAY! Take them on fake dates, charm them with fake stories, or try giving them a real massage if you can. If they buy into it, they'll do whatever you tell them to!
- SHOOT PROFESSIONAL FILMS AND BUILD YOUR ADULT EMPIRE!
- STAY TUNED FOR MORE LOCATIONS/JOBS TO COME!

OVERALL

- Uncensored adult game with steamy animated Hentai scenes
- Can be played in browser and on Android devices
- Diverse dating sim, featuring a wide variety of girls
- Shoot professional porn videos
- Build your adult empire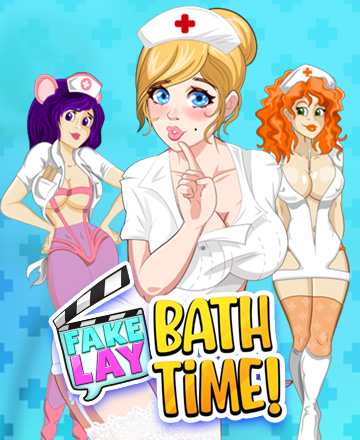 News and Updates
3 Year Anniversary
OMG we can't believe it's been 3 years already! Time really flies when you're having fun and we sure have been!

To celebrate this special day we've added a brand new girl! Please welcome Katsumi!

Stay tuned for more updates coming soon!

Second chances

Don't skip this chance to play the girls you've missed out on! Play as many of the past stories as you can before time is up. But only one at the time.

Collect Event Tokens

"Let's get wet" has been added to the classic shop! FOR FREE! ;)

Still Cute!
The 1st anniversary filming event is back!
SUGAR DADDY SPY CAM is here!
Join Lola on her quest for fame in Fake Lay's largest visual content update ever!

New game play with hot story driven content & a pack full of goodies!

Enjoy!
/the FL Team
Four Orgasms Resort - A Voyeur's Paradise
Summer's finally here! All the girls have gone on a well deserved holiday break to lovely Four Orgasms Resort.
Who would miss an opportunity like that? Pack your spy shit and let's get some amazing voyeur footage!
But beware of the guards!

New addictive game play, great offers with 2 new grand packs… Let's have one hot summer!

Enjoy!
The FL Crew
More News
System Requirements
Phones manufactured before 2015 are not recommended

-iPhone
iOS 9 or higher
[Recommended Browser] Google Chrome
[Not Recommended Browser] Firefox, Safari, Opera

-Android
Android 4.4.2 or higher on smartphone (tablets not included)
[Recommended Browser] Google Chrome
[Not Recommended Browser] Firefox, Opera
Continue the Download with our Nutaku Android Store App
Update your games with one tap
Explore our library of Android Games
Play and manage your games from one place
Download Error!
Your game files are unavailable for download at this time.
Please refresh the page or try again later.
If the problem persists, please contact customer support
Download Error!
File not found.
Please refresh the page or try again later.
If the problem persists, please contact customer support