Home

›

Games

›

Casual

›

elven love naughty rituals

Elven Love: Naughty Rituals
Summary of Game
A mystical adventure awaits your touch!

In a universe ruled by sensual magic, immerse yourself in a fantasy world of elves and their rituals. You will discover that there are two kinds of elves: The Moon Elves and The Wood Elves. Although the two have in fact shared ancestors, mixed-elf love is a rarity at best... but certainly not forbidden. Nor is it impossible. On the rare occasion that a Moon Elf and a Wood Elf fall in love, an ancient tradition is set in place and must be followed carefully.

As a player, you will be witness to the ritual which draws upon the intricately woven cultures. The ritual includes a ceremony which is required to unite both groups. Preparations for the ceremony by both elves are a must and with the VR feature, the player will have the impression to be witnessing the preparations in real-life.

Otherworldly magic has never seemed attainable… until now.
Key Features
• A Red Vibe Studio Title
• VR Game
• Fantasy theme
• Unlockable sexual activities
• Custom skin solutions for models
• Mini puzzle games
• Fully uncensored
Game Information
Languages:

Version:

Download Size:

Release Date:
System Requirements
Windows System Requirements:
• OS: Windows 7 (64bit) or better
• Processor: Intel i5-4590 or better
• Memory: 8 GB RAM
• Graphics: NVIDIA GeForce® GTX 970, AMD Radeon™ R9 290 or better
• Storage: 3 GB available space
• HTC VIVE or OCULUS RIFT required
• STEAM VR required
Purchase confirmed
This game is only available on PC
---
Log into Nutaku on your desktop to download and install your new game now!
Download Error!
Your game files are unavailable for download at this time.
Please refresh the page or try again later.
If the problem persists, please contact customer support
Download Error!
File not found.
Please refresh the page or try again later.
If the problem persists, please contact customer support
Buy Game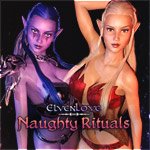 Elven Love: Naughty Rituals
Language: English | OS:
You are missing 1,500 gold to complete this purchase using Nutaku Gold
---
Select payment type
Taxes may apply or be included
Uh Oh, Payment Error
There was a problem completing your purchase.
Please try again
---
Select payment type