Crush Crush Is Live!
The adult version of Crush Crush: Moist and Uncensored released today on Nutaku, delivering Sad Panda's addictive online dating sim with a salacious new twist! No longer limited to a few chaste kisses, you're now free to pursue the cat-girls, mecha pilots, and interdimensional time travellers of the world's most hilarious dating-clicker adventure all the way to the bedroom. Best yet, they've included a new character for us in the form of Nutaku-Chan, an oversexed virtual girl with a taste for fast cars and money. It's practically poetry!
This is the first time that Nutaku has partnered with a mainstream developer to convert a successful SFW title to something more appropriate for our adult portal, and we couldn't imagine a more promising game to do it with. Sad Panda has been deluged by requests on their Steam and KongreGate page for hentai content in their game, and with the resources and guaranteed audience that Nutaku provides for such games, meeting the fans requests became imminently more practical.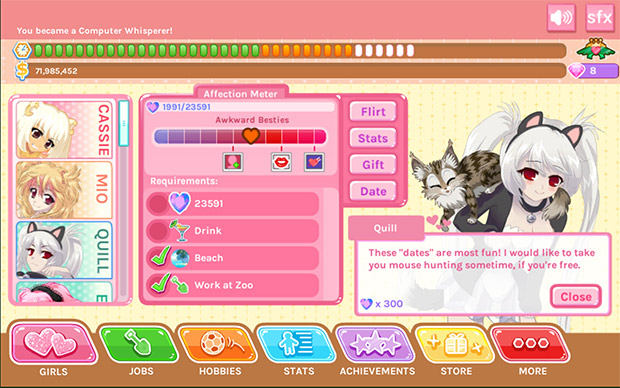 The dating sim genre is tailor-made for sexy content in their climax scenes (pun intended), and we'd love to see more games of this style take the leap and offer an 18+ version. Whether downloadable or browser-based, our doors are always open to new developers who might be interested in including mature content for their titles, and we will never demand exclusivity. If you are, or know, a developer in a situation similar to Sad Panda - be sure to send them our way.
For players, check out Moist & Uncensored and enjoy yourself! Unlike many of our other games, Crush Crush distinguishes itself by how easy it is to get into: it has exactly the sort of entertainment value that our more casual fans have been requesting for ages, literally playing itself when you're not around. The characters are well-animated, charming, and a pleasure to get to know...
... but watch out for Bearverly.