Home

›

Games

›

slot bitches

Summary of Game
Hottest bitches are waiting for you! In this game of luck you'll find a very naughty girls who just want to undress and pleasure you in a numerous ways. Show the other players who is the big boss and the greatest high roller taking top places in a different challenges and competitions.
Key Features
Big prizes, exclusive babes, fair slot machines and great bonuses – that's the salacious world where everything could happen. So, take a step and dive into the atmosphere of luxury, filth and gorgeous women.
Game Information
Languages:

Release Date:
System Requirements
Browser with WebGL support
Buy Game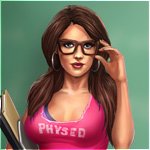 You are missing 0 gold to complete this purchase using Nutaku Gold
---
Select payment type
Taxes may apply or be included
Uh Oh, Payment Error
There was a problem completing your purchase.
Please try again
---
Select payment type