Home

›

Games

›

merge nymphs

Summary of Game
Story

A long time ago, the lush world that is home to the Nymphs was invaded and polluted by vile monsters known as Golems.
As they took over the flourishing land, the pollution put the innocent Nymphs in a deep slumber. They stood no chance against an army of polluting monsters.
This is where you come in, Lord of Fertility! As you slowly wake from your slumber, you realize not only that the world needs cleansing, but that the Nymphs need to be awakened as well.
Are you up for the task?

Gameplay and objectives

MERGE NYMPHS is an online adult puzzle game that can be played both on browser and mobile Android.
The core mechanic of the game is to merge items in sets of 3, 5 or more in order to create higher level objects (or Nymphs). The player faces many challenges on every game level to acquire rewards such as Camp objects or Nymph Shells. The 'ultimate goal' with merging is to obtain the highest levels of the different Nymphs.
Nymphs have the ability to harvest resources and objects, and construct buildings. Every new Nymph merge possibility discovered will bring you a Sex Scene with a kinky story dialog. After a Sex Scene, the merged Nymph produces a bonus amount of Magic Pheromones. It heals the land around the Camp which allows you to then expand it.

Hentai

Feast your eyes on the amazing hentai artwork, sure to satisfy your dirtiest dreams.The artwork is absolutely fantastic, with plenty of detail and gorgeous colors, depicting a wide variety of steamy sex scenes of your collected Nymphs. Gather your army of Nymphs, cultivate their abilities through hot rounds of sex and help them regain their magical abilities!
Key Features
- Enjoy Deliciously Detailed Artwork! Befriend 80 needy Nymphs, each with their own bootylicious Card!
- Savor Spicy Sex Scenes! Unlock 30 Uncensored Sex Scenes by leveling up your Nymphs!
- Reclaim And Restore! Solve 70 puzzle Levels & Challenges and win exciting rewards all while fighting off pollution!
- By These Items Combined...! Collect over 250 mergeable and interactive items!
- Merge And Conquer! Take part in thrilling Events every week and win items that will help your in-game progress!
- Update Galore! Claim new Uncensored Sex Scenes for your Nymph-os every month!

Overall

- An interactive puzzle adult game with steamy uncensored animated Hentai scenes.
- Two playing environments: mobile device or browser.
- Discover over 200 fantastic objects to merge and interact with!
- Merge anything - Nymph shells, withered plants, cogs, watches, chests, hats, lanterns, and even the Nymphs themselves, and more!
- Discover 10 alluring Nymph types who live in the valley, and evolve them through 8 growth stages to create new Nymphs!
- Kinky themes: Animated Sex, Character Evolution, Epic, Bondage, Sextoys, Harem, Big Tits, Big Ass, Chibi, Cute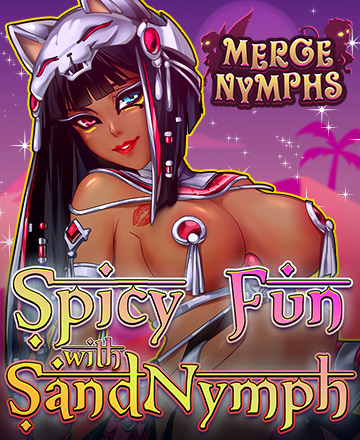 Game Information
Languages:

Version:

Download Size:
System Requirements
Recommended:
Android API level 19 (Android 4.4)
3 GB of RAM
1920x1080+ resolution
Installation Instructions
Download the game file and transfer it to your android device
You can download the Android Application installer (APP file) on your computer using the below link.
Simply transfer the APP game file to your mobile device using a cable or WIFI and install it.
Download the APP on computer here
---
Download to your android device by visiting this page on your device
Visit this page on your mobile device and download the game application file directly onto your device.
Continue the Download with our Nutaku Android Store App
Update your games with one tap
Explore our library of Android Games
Play and manage your games from one place
Download Error!
Your game files are unavailable for download at this time.
Please refresh the page or try again later.
If the problem persists, please contact customer support
Download Error!
File not found.
Please refresh the page or try again later.
If the problem persists, please contact customer support