Home

›

Games

›

SLG

›

king of wasteland

Requires Android Device
In order to play this game, you must have an Android device. Alternatively you may use an emulator to play on your desktop.
Add to Favorites
Summary of Game
One global back-end server is used to run this stunning strategy game with an end of the world theme. You'll need to battle through incredibly challenging adventures, where survival is the only rule! You must tough out this doomsday catastrophe and find comfort in the arms of beautiful women. You will have to lead and control the beautiful heroines, command different teams of armed forces, fight off zombies, explore the post-apocalyptic world, compete for scarce resources, and learn to survive in desperate circumstances! You will have to level up quickly in order to survive the attacks from other commanders and save your precious resources from being plundered. You may join the right alliances to seek protection and help from powerful players in your state. Limited time contest, city war, arena, apocalypse, Halloween, Christmas, Valentine's Day, Easter, and many more great events are waiting for you to explore.
Key Features
• City Building, Massive Multi-Player, Army Training, Simulated Life Game, Free to Play
• Super world, where all players are on the same server
• More than 20 unique heroines, more than 50 beautiful scenes, animated sex
• Encounter and conquer beautiful women, post-apocalyptic world
• Vast battlefield, always dangerous
• Develop heroes and grow their strength
• A great selection of equipment, devices and functional buildings
• War Machines, Conquering the World
• Various activities and playing modes to get unique tokens for girls
• Holiday, resource, hero, and activity based events
• Install on Android devices
Game Information
Languages:

Version:

Download Size:

Release Date:
Installation Instructions
Download the game file and transfer it to your android device
You can download the Android Application installer (APP file) on your computer using the below link.
Simply transfer the APP game file to your mobile device using a cable or WIFI and install it.
Download the APP on computer here
---
Download to your android device by visiting this page on your device
Visit this page on your mobile device and download the game application file directly onto your device.
Continue the Download with our Nutaku Android Store App
Update your games with one tap
Explore our library of Android Games
Play and manage your games from one place
Download Error!
Your game files are unavailable for download at this time.
Please refresh the page or try again later.
If the problem persists, please contact customer support
Download Error!
File not found.
Please refresh the page or try again later.
If the problem persists, please contact customer support
Buy Game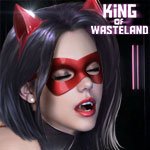 You are missing 0 gold to complete this purchase using Nutaku Gold
Requires Android Device
---
Select payment type
Taxes may apply or be included
Uh Oh, Payment Error
There was a problem completing your purchase.
Please try again
---
Select payment type