Home

›

Games

›

custom order maid 3d 2

Summary of Game
• Three customizable maid characters
• Available in English language for Nutaku players
• Exclusive Nutaku-tan outfit gift set
• New Guest Mode feature
• VR Support with VR headset
• Unique Yotogi skills with each maid
• Customizable rooms
• Plethora of unlockable H-scenes

Empire Club. The most luxurious bar that ladies and gentlemen come and gather.
The beautiful maids who work there dance and talk with the customers to amuse them.

One day, the protagonist was told to meet his uncle.
His uncle told him he had newly opened a future-next generation Empire Club which was customizable and filled with new possibilities.
Unexpectedly, his uncle generously handed over the ownership of Empire Club… However, Empire Club was secretly in huge debt.
Although he cursed his uncle for fleeing outside of the country and neglecting Empire Club, as it was... he had no choice but to run the place.
Not only did he have to save the club from debt, there were so many outrageous problems. It was obvious that it wouldn't be easy to solve everything.

In front of the protagonist who was totally at a loss, three maids appeared. They were the last few maids who remained working at Empire Club.

"Maria Seido" who is innocent and cheerful.
"Mafuyu Himuro" with serious and loyal personality.
"Risa Takizawa" a dignified, mature woman.

Starting with these three, the protagonist and maids cooperate to rebuild the future-next generation Empire club.
Key Features
Character Edits:
The most crucial feature of this product- Editing characters.
You would easily be able to customize your maids however you like.
We have added some functions for players to be able to create even more idealistic characters.

YOTOGI:
Players can choose lovey-dovey to SM and many other styles. Maids can be grow and evolve anyway players want. ※YOTOGI means night activity

VR support:
Players can enjoy more the world of CUSTOM ORDER MAID3D2 by VR Headset.

Specialized Yotogi by Personalities:
In this product, there are special Yotogi skills for each heroine type.
Each personality type learns specialized Yotogi Skills for its personality.

VS Dance:
Players can battle against rivals who appear in the story, by Rhythm Acting games.
No worries. You can skip the games if you'd like.

Guest Mode:
A newly added Guest mode is an ADV game mode that players become customers at Empire Club and get served.
Players are able to choose "master himself" as a player character.
Game Information
Languages:

Version:

Download Size:

Release Date:
System Requirements
System Compatibility (Recommended)
Windows 7/8.1/10 - All versions must be 64-bit.
CPU: Core i5 Quad-core 2.5Ghz or higher
Memory: 6GB or above (8GB or above)
Resolution: 1280 x 720 or higher (1920 x 1080 or higher)
GPU: GeForce GTX 560 or above OR Radeon R7 260X or above (GeForce GTX 760 or above mid-range to high-end)
DirectX11 compatible GPU mid-range or above
Hard Disc Free Space on SSD: 20 GB or more
Internet Environment: (Broadband Internet Connection (ADSL/FTTH/CATV) 8Mbps or above, TCP/IP)

VR System Requirements:
VR device: Oculus Rift, CV1, HTC Vive
CPU: Core i5 Quad-core 3Ghz or higher
Memory: 8GB or above
GPU: DirectX11 compatible GPU GeForce GTX 970 or above

*1: Not guaranteed to work with Laptops, all in one desktops, and tablet PCs.
*2: Not guaranteed to work with Mobile GPU and IntelHD Series GPU. Does not correspond with RadeonHD Series GPU.
*3: Please install the latest Graphic Driver that is provided by your PC brand.
*4: Please install the latest Runtime that is provided by HMD brand.
*5: This product does not need internet connection to play, however, some contents will not be available offline. Not compatible with mobile Internet connection and tethering devices.
*6: Not compatible with 32bitOS. Guaranteed to work only with the latest service pack. Please follow the warranty period of OS providers. Windows 7 has been announced that the warranty lasts until January, 2020.
Purchase confirmed
This game is only available on PC
---
Log into Nutaku on your desktop to download and install your new game now!
Download Error!
Your game files are unavailable for download at this time.
Please refresh the page or try again later.
If the problem persists, please contact customer support
Download Error!
File not found.
Please refresh the page or try again later.
If the problem persists, please contact customer support
Buy Game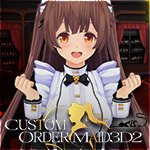 Language: English | OS: Windows
You are missing 4,500 gold to complete this purchase using Nutaku Gold
---
Select payment type
Taxes may apply or be included
Uh Oh, Payment Error
There was a problem completing your purchase.
Please try again
---
Select payment type
Your Purchase is Almost Complete
Your order has been successfully received, but we still need additional time to receive confirmation from your financial institution.
This should take a few hours or days.
You will receive a confirmation email once your purchase has been processed.