Wake Up Your Waifu Contest Winners

Hey all,
Several weeks ago at Anime Expo 2017 in Los Angeles anyone who came by our booth had the chance to enter into an awesome contest where they could help create their very own character in Armor Blitz.
We're happy to announce that today that character has been added into the game! Please give a warm welcome to Lila (AKA Shawnee) as created by our contest winner: AgentShawnee!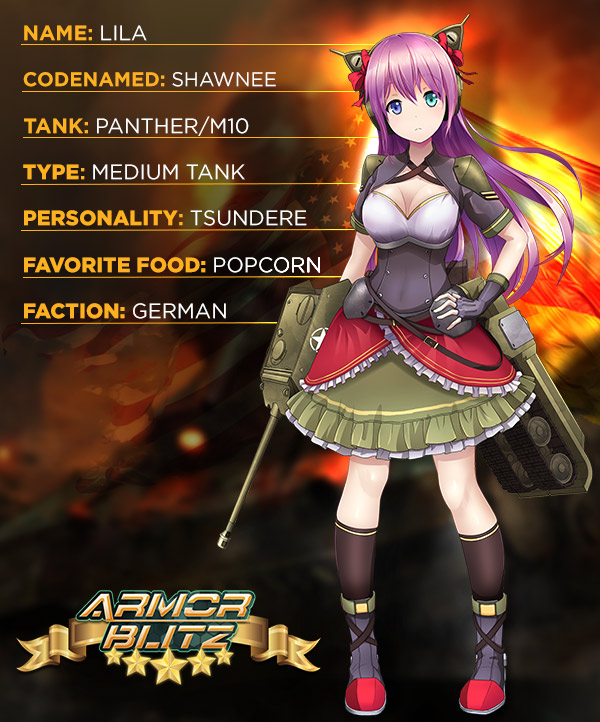 History/Story: This German tank was disguised as an American the M10 Wolverine tank destroyer to confuse allies in the Battle of the Bulge. In reality they were more or less identical to a Panther G medium tank. All of these disguised tanks were lost during the battle with the 120th U.S. Infantry Regiment on February 21, 1945.
In Armor Blitz Lila, a Panther tank, has gone behind enemy lines to pose as an iconic American tank destroyer. She goes to the lengths of dressing up and speaking like an American (or attempting to…) to try and fit in, and even adopted a cover name: Shawnee!
---
Want Lila to be the newest addition to your team? Armor Blitz is having a limited time boosted drop rate for cat-themed tanks this week, and Lila is included!

Now that we've met the newest addition to the Armor Blitz tank line up, let's learn a little more about the lucky lady who helped the development team create her!
What is your handle?
I go by AgentShawnee!
How long have you been playing games on Nutaku?
I'm a n00b! I started around April of this year when I became addicted to Phantasma Magic Deluxe!
How did you hear about the Wake Up Your Waifu Contest?
I was at Anime Expo and I heard Nutaku had a booth and I rushed over to check it out because I had been playing a lot of Ultra Adventure! Go Go Osawari Island at the time and I saw the notice for the contest on the booth.
What sparked your interest in Hentai?
I've been into hentai since I was too young to be into hentai! I accidentally rented a hentai in the anime section of Hollywood Video and then I became hooked!
What was the inspiration behind your character?
I selfishly made her a lot like myself! I love cat girls.
What are your favorite elements of Armor Blitz?
RTS games are a lot like tower defense games so I find them really fun! Armor Blitz adds an extra layer to the fun with cute characters!
Do you have any interest in game development?
I don't have any interest in the technical side of things. I have been scanned into a few games with facial scans and motion capture and I've done a few voice overs for games and I find those parts of game development really fun!
Any other remarks?
Thank you for letting me be a part of this! It's so exciting!
---
Thanks so much to AgentShawee for her help creating Lila and being part of what makes the Nutaku community great.
We can't wait to reveal some of our other ideas for upcoming contests to get the community more involved in developing unique content within the games!
All the best,
The Nutaku Team