Shooting Girl Releases on Nutaku.com!

After a great deal of anticipation, Shooting Girl has at last arrived on Nutaku.com. We've been teasing this game to you since GDC in March and it's a great pleasure to finally see it live and being enjoyed by fans on Nutaku.
Shooting Girl has the ultimate sci-fi anime setting: a future version of Japan torn apart by a robotic uprising (or robotic alien invasion, depending on your headcanon.) With the country's defense forces wiped out in the first few hours of the war and most military-aged males dead, the country has turned to the last hope for resistance: heavily armed teenage schoolgirls. Lead by the protagonist, a veteran instructor, the girls of the White Lily Metropolitan Technical College and Boot Camp are carrying out a last-ditch jihad against synthetic life as they attempt to reclaim the lost 32 wards of Tokyo...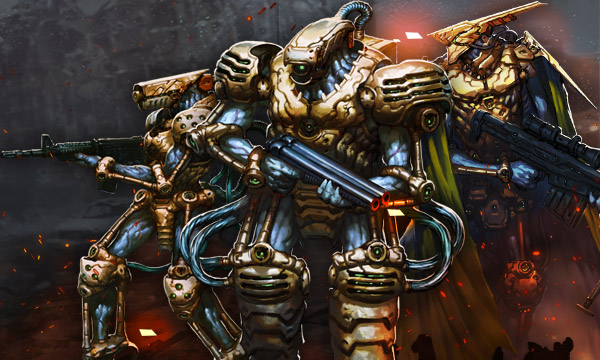 It's a jaw-dropping premise but, somehow, the game pulls it off. The sight of heavily armed chibis bouncing off across the battlefield to flatten your enemies is lighthearted enough to balance the otherwise grimdark setting, and the sounds and animations are incredibly well done. The gameplay awards careful tactical positioning and situational awareness, rotating between teams specialized for different terrain types and weather. Like many Japanese web games, the player's role is mostly managerial: making sure your squads have the equipment, training, and orders they need to overcome a terrifying foe.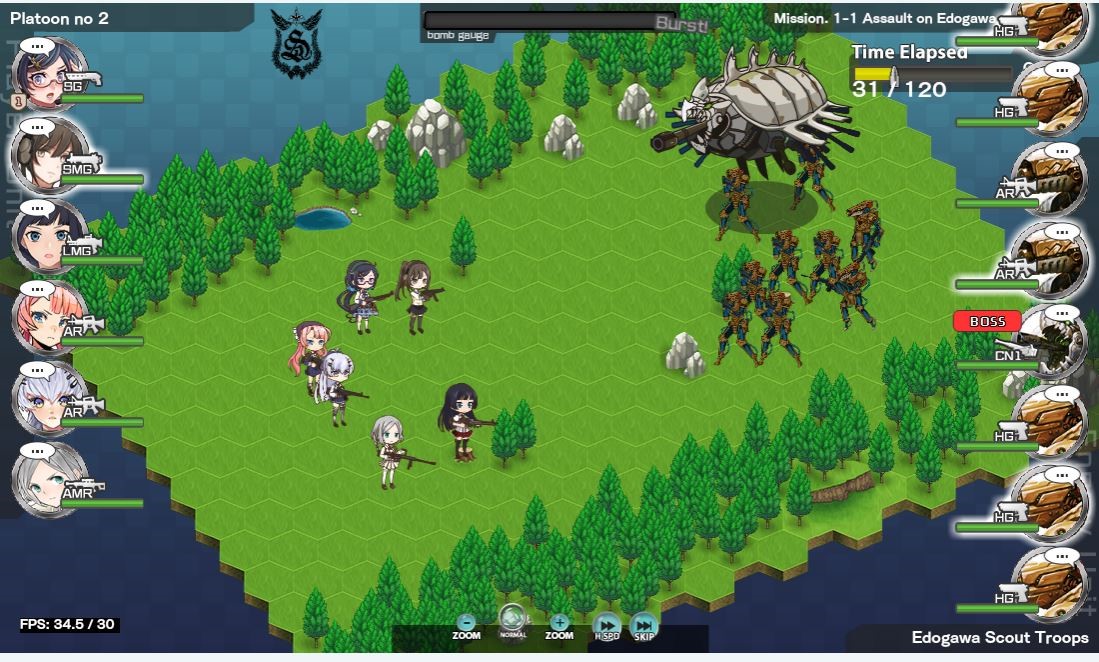 Like its spiritual predecessor KanColle, the gun girls of Shooting Girl take a page from their ship girl cousins and have personalities that mirror the weapons they wield. H&K MP7's Iria Dokuzawa is a Germanic no-nonsense warrior whose friends have nicknamed "Heave-Ho" due to her propensity for getting in tough situations despite her weak stopping power. Kirara Seijo, meanwhile, wields her M16 while chewing a lollipop and sporting a 60's-era "born to kill" slogan on her helmet. It's the attention to detail, both in the weaponry and characters, that makes this game truly shine.
Shooting Girl is an all-ages game and is now available on Nutaku.com.
--
On a sadder note, today also saw the announcement of the end of Dragon Tactics Memories and Duel Squad, both of which will be closing their doors at the end of next month. We're disappointed to see both of these games go, though Duel Squad never took off as many other of our titles have.
DT:M, on the other hand, was a popular game on Nutaku and a mid-range success for us. When the developers announced they'd be moving onto other projects, we offered to continue to run it and develop content with our own team. Unfortunately, the offer was declined, partly due to the required downtime between our team taking over and the original dev's planned departure from the project.
We hope that fans of Dragon Tactics and Duel Squad will continue on with Nutaku in the future as we continue to import the most entertaining online web games in the world.
All the best,
The Nutaku Team