AgentShawnee reviews Taps of Eradine

Happy Lewd Year! I mean… happy New Year!
This year I'm back and I'm ready to do even more fun stuff with Nutaku!
The first game up is Taps of Eradine Monster Tapper! Does the name sound familiar? It may because it's a spin off of the game Shards of Eradine. Both games are new to Nutaku and were released within the last few months. Shards of Eradine is an RPG game and has a lot more depth than Taps of Eradine. Shards of Eradine is a full fledged game which costs $25 here on Nutaku. If you want to get your feet wet and meet the characters before purchasing the game you should definitely try Taps of Eradine!
Taps of Eradine Monster Tapper is… you guessed it… a tapper game! The idea of the game is to tap as much as possible to get awesome loot! Well… it's a little more complicated than that! Let's take a closer look at the game.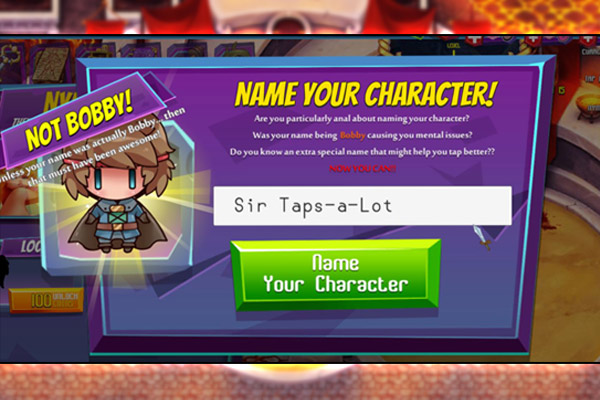 You begin the game as a cosmo and you get to name yourself. The name Sir Taps-a-Lot felt like the right choice here. I really like that you get to name your character but I do wish there was a little more customization involved. Probably because I want every character I play to have purple hair to be honest…
After a short intro you get your first Nymph. Nymphs are these cute little monster girls who help you fight your way through the game. When you tap/click the mouse your cosmo attacks the beasts but when you are idol the Nymphs keep fighting for you.
PRO TIP: Use your first heart to get a Super Nymph slot. That will save you so much more tapping!

You want to collect lots of Nymphs so they can do a lot of damage when you are not actively playing. They even keep playing to earn you more gold while you are offline. You can use gold to buy new Nymphs, level up your Nymphs and level up your cosmo.
As I said above you want to collect a lot of Nymphs! The more you collect the easier it will be to smoke those monsters! You can also evolve Nymphs with things called shards. There are different elemental shards and you need the right element to evolve each Nymph. As you evolve them not only will they get special power ups but they will also go from super cute to super sexy! Shards are not easy to come by though. You can collect them from monsters randomly and receive them as rewards in the achievement menu. I have only evolved a couple of Nymphs. I haven't come across any sexy images quite yet but I hope to soon. You can also view the key art for each Nymph you evolve past the first stage via the gallery.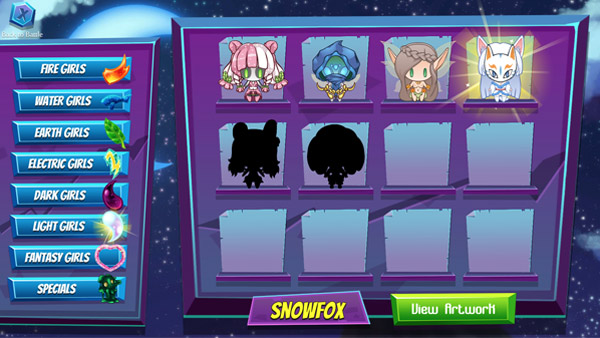 During your battles you will run into bosses and you need to beat the boss of each level to proceed to the next level. If you do not beat the boss the level will keep cycling through monsters until you decide you've powered up enough to try your hand at the boss again. Beating the boss is sometimes easy and sometimes you need to click like a mad person! You get 30 seconds to defeat each boss and if you don't beat them by the 30 second mark you have to start over. So make sure you keep leveling up those Nymphs and your cosmo to take down those bosses.
PRO TIP: There is an elemental factor to this game. Make sure you are switching out your Super Nymphs to the proper element when fighting a hard boss to get the upper hand! For example if you are fighting a water monster equip a earth Nymph for extra damage!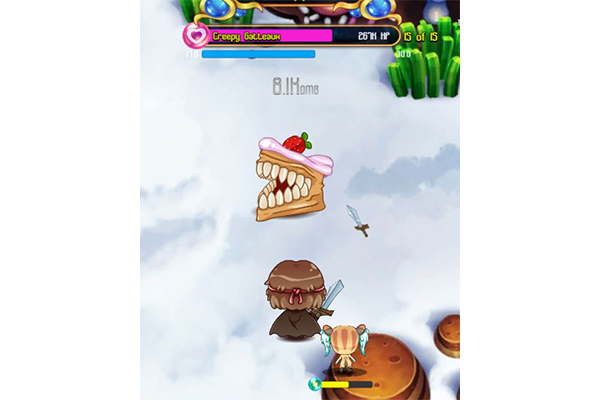 On top of bosses there are Treasure Whores! The Treasure Whores have one tit out so you get a little peek-a-boob! These are REALLY hard to beat and I'm on level 55 and I've yet to beat one. One day I hope to beat one because I hear that you get some seriously epic loot!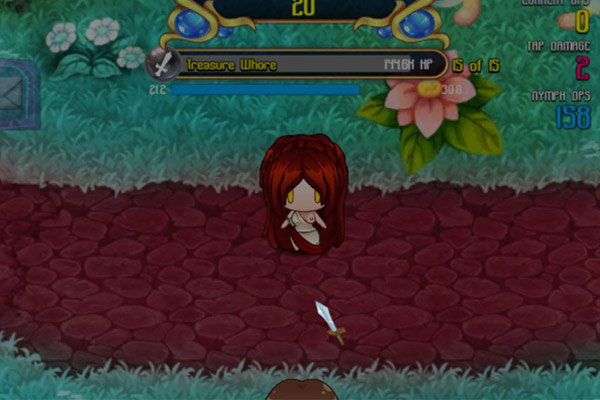 Taps of Eradine Monster Tapper is a super fun and super cute game. It's totally free unless you choose to buy extra items or currency for yourself. It's pretty hard compared to most tapper games I've played in the past but the extra challenge makes it more enjoyable in my experience. Make sure you give this game a try and let us know what you think of it!
Make sure to come back soon to see which game I play next. You can also check out my social media [ID: agentshawnee on all platforms] for updates on my progress in Taps of Eradine! Hopefully I will beat one of those Treasure Whores SOON!