Nutaku to attend what!?

Every year the Nutaku Team gathers around a small round table in a dim lit room, with open boxes of pizza and a 24 pack of Mountain Dew. The group of anime-loving individuals plan, strategize and then decide which anime conventions Nutaku should attend. Last year, Nutaku only attended two conventions but this year, Nutaku is adding a third one to their agenda. In chronological order, the following are the conventions Nutaku will be attending this year:
Anime North
Anime North is a non-profit convention organized and run by anime fans. Taking place in Toronto, Ontario at the end of May, it is ranked the 4th largest anime convention in North America. The convention is celebrating its 20th anniversary and expecting over 30 000 attendees this year. Known for their Masquerades and Dealers Rooms, they also host panel discussions, guest autograph sessions and contests. In 2016, Anime North invited Michael Dobson, game designer and author, best known for his work in role playing games Dungeons & Dragons and Indiana Jones. Best known for the original English dub of Sailor Mars in Sailor moon, Katie Griffin, Canadian Actress, Voice actress and Singer, also made an appearance.
Nutaku didn't attend Anime North last year, but we plan to make a big appearance this year. If you're in the area, come support Nutaku!
Anime Expo
Organized by the non-profit Society for the Promotion of Japanese Animation (SPJA), Anime Expo takes place in Los Angeles, California. It is considered the largest Anime Convention in North America with over 100 000 attendees. They have extravagant attractions including the Masquerade Cosplay Contest, an Anime Music Video Competition, Battles of the Bands and even a charity auction. Anime Expo also hosts dozens of well-known guests including music artists that hold concerts and industry leaders taking part in the scheduled panels or autograph sessions.
Last year, Yoshitaka Amano made an appearance at Anime Expo. Amano has a variety of skills including character designer and costumer designer but he is best known for working on the best-selling novel series Vampire Hunter D, The Guin Saga and illustrations for the very popular Final Fantasy series. Also established in the industry is Mike Sinterniklaas, who attended the convention last year. Being part of dozens of anime roles and video games, Mike is actually best known for his role as Leonardo in the 2003 animated television series Teenage Mutant Ninja Turtles.
Evidently, there are a ton of interesting people at Anime Expo, including Nutaku! Last year we attended the convention. Here are a few pictures from our experience.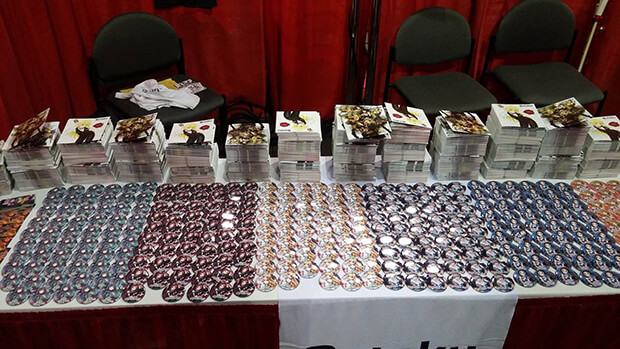 This is Nutaku's booth covered in goodies we gave away!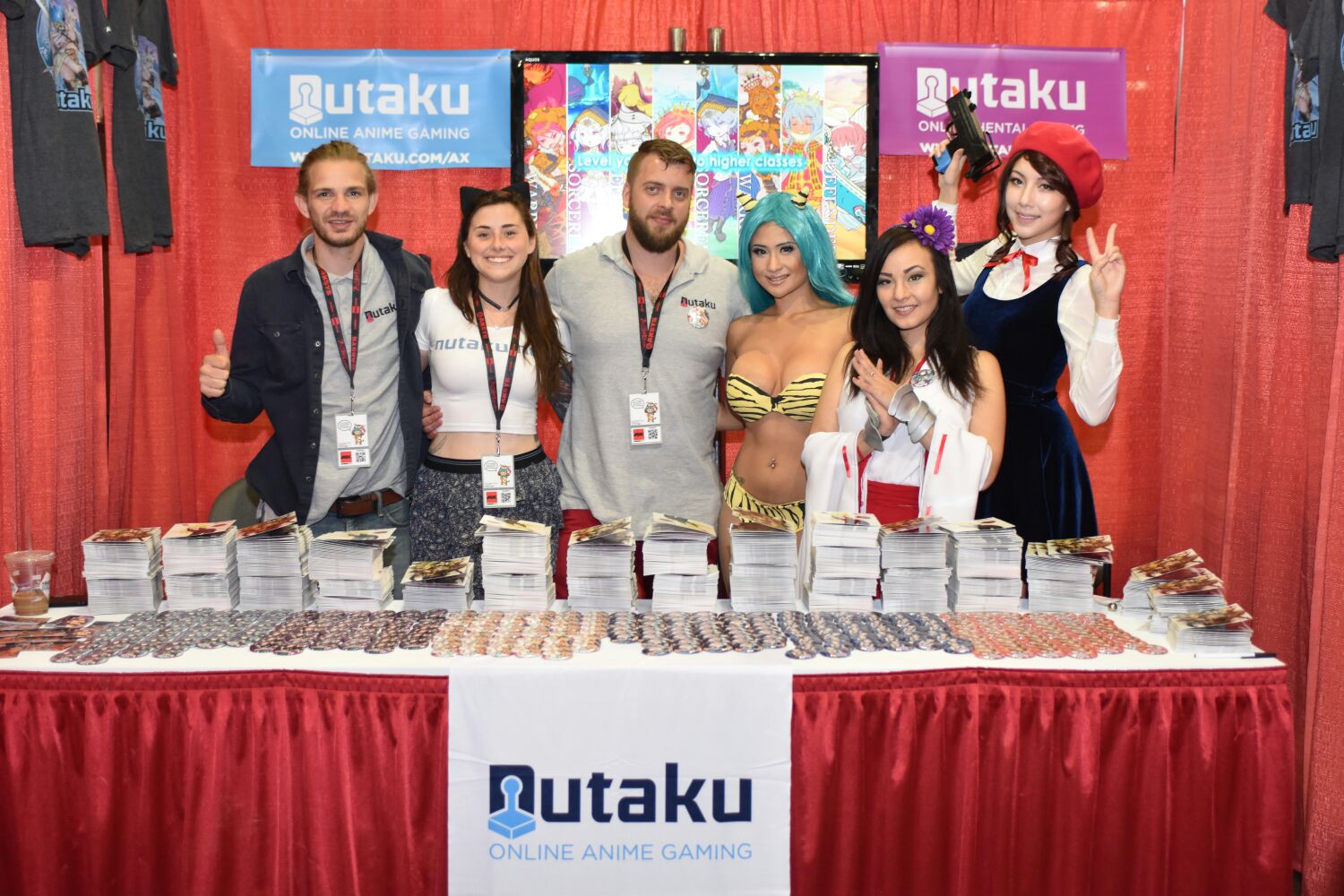 Come chat with a member from Nutaku or an anime model that helps us at our booth.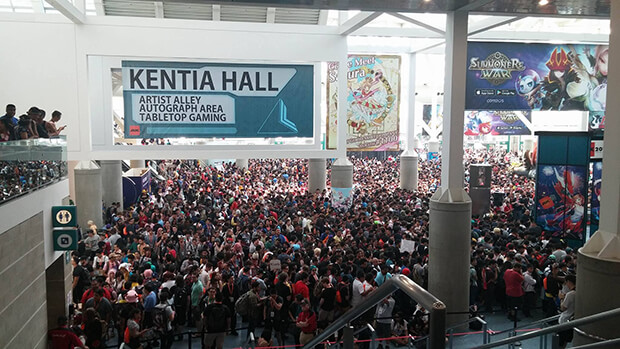 This is just to give you an idea of what the biggest Anime Expo looks like- amazing!
Otakuthon
Initiated by a local university, Otakuthon started in 2006 with less than 2000 attendees. Taking place in Montreal, Canada, it is now the 11th largest anime convention in North America with over 20 000 attendees. Cosplay Events, masquerades, Artist Arenas, concerts, game shows, karaoke and panels are just a few activities going on at the summer event. Best known for game opening themes, rock band from Tokyo, Back-On, attended the convention last year. Karen Strassman, an American actress also made an appearance. She voiced many characters from anime shows and video games including Miyuki in Lucky Star and Nina Fortner in Monster. You might even recognize her as Jolene from the television series Weeds.
Last year, most of our team attended Otakuthon. We had a great time meeting our local fans. Here are a few pictures from our experience: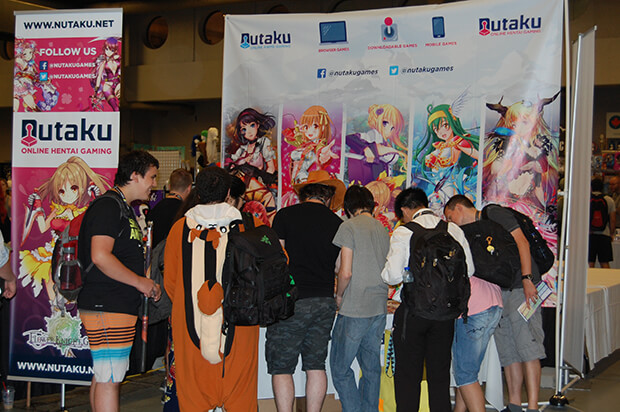 This is our booth surrounded by people signing up to Nutaku.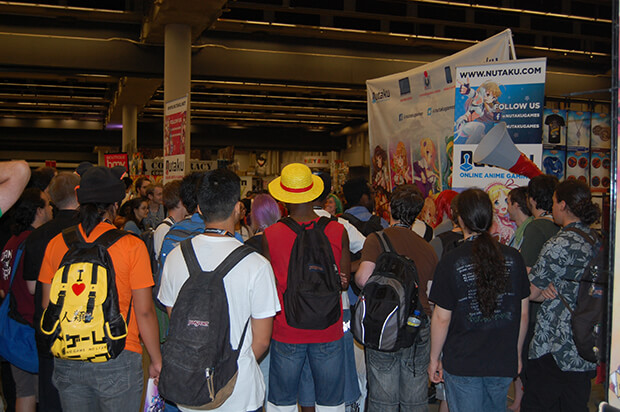 Our booth got even more popular when we announced the winners of all our contests!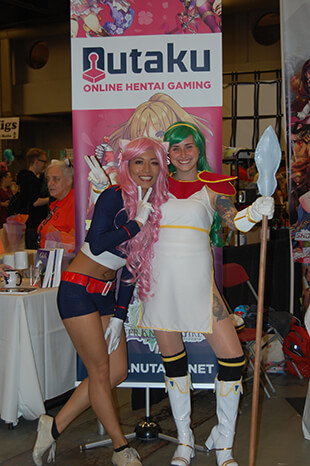 In this picture you see the anime model that helped us at our booth and our very own NordLand!
As a team, we love going to conventions to meet fans of Nutaku. If you have any suggestions regarding which conventions Nutaku should attend let us know on Twitter with @nutakugames.
Can't wait to meet you,
The Nutaku Team