Nutaku Summer Update!
8/19/2016
Development Updates

It's been a few weeks since we've written a general update on the state of Nutaku, so it's high time we reach out and provide further info on some of the exciting projects we've been working on over the dog days of summer. These last two months have seen a number of announcements that have drawn significant attention to adult gaming in general and Nutaku in particular, meaning that the pressure is on for us to deliver new content and features like never before.
Without further ado, the grand Nutaku end-of-summer update...
Game Development Fund:
The response to our adult game development fund has been phenomenal. Over 80 developers have reached out to Nutaku, ranging from one-man indie outfits to fairly established studios with significant projects under their belt. We've listened carefully to every proposal put to us and have so far decided to move ahead with 12 separate projects. While it's too early to give too many details (and ultimately up to the developers what they choose to announce), we can tell you that we are going to be expanding the list of adult game genres by an order of magnitude. We've seen brothel management sims, XXX adventure capitalists, and more RPGs than we can shake a stick at - and we'll be bringing many of them to you in the coming months, exclusive to Nutaku.
Downloadable games:
Nutaku has been working closely with some of the best adult game developers in the market, including Denpasoft and MangaGamer, to bring their titles to new audiences. Today's release of kinetic novel Karakara was the first of many new adult titles, which we hope to begin delivering on a weekly basis. Already-released games will be offered at a substantial discount and new games will continue to see the exclusive early releases of their adult versions on our store.
Importantly, we are now ready to implement direct purchases of games with USD rather than Nutaku gold. We've heard your feedback regarding this extra step and have re-worked our entire game pages to make the purchasing experience more streamlined and efficient for new users. Check out our designer's mockup to get a better idea of the changes you can expect soon.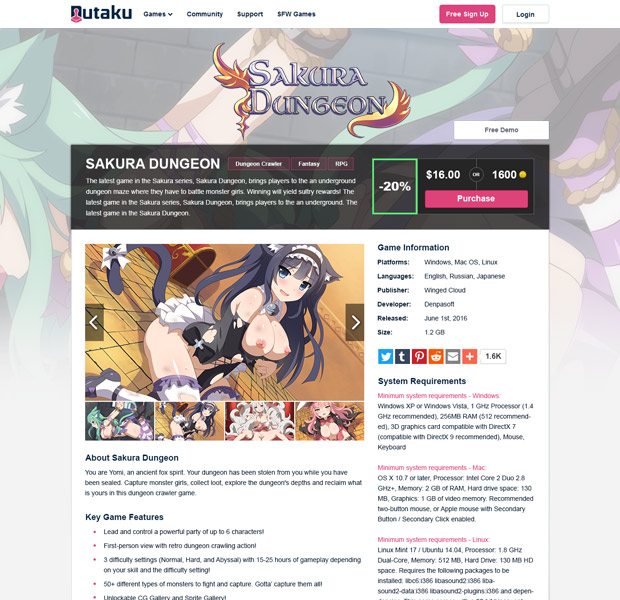 Note: work in progress, not final design.
Browser Games:
Our Japanese partners are rather shy about announcing their online games in advance, but we can divulge a bit of information. As many of you know, Idol War Z will be launching on the 23rd and is currently in the pre-registration phase. If you haven't gotten in your free gacha spins yet, visit the pre-registration page and get to it! The more players spin, the closer they are to hitting that 5-million spins landmark and winning the entire community some major rewards.
We can't talk too much about future projects outside of that, but a certain Brave Girl Raven has been spotted on the horizon...
The Nutaku Store Client:
Rome wasn't built in a day, and as our most ambitious project, finishing the downloadable client will be a similarly arduous. Our first task is to strip out some of the more cumbersome systems that were present in Kimochi and begin orienting the client toward the Nutaku website. This is going to require new APIs and is a substantial development task.
You can expect an update at the end of the month porting the Nutaku game library into Kimochi and removing some of the older titles.
We encourage any developers with a title currently on the Nutaku store to contact us and see about getting it placed on our downloadable games store, which will keep the game persistent and available through the transitionary period.
--------
That's all the news that's fit to print this week. Check back in the not-too-distant future for more game announcements and further details on some of our new partnerships.
All the best,
The Nutaku Team