Nutaku Red Dead Redemption 2 Insights
On October 26 at midnight Eastern Time, the highly anticipated game, Red Dead Redemption 2 launched worldwide. After a seven year wait for this sequel, it was no surprise that the release of this console game would have gamers clearing out their schedules to go into serious gaming mode. Our inquisitive minds were curious to find out if the launch had any impact on our adult gamers, and it certainly did!
Traffic to Nutaku gradually decreased to an entire 20% in the wee hours of the morning, as gamers tuned in to play Red Dead Redemption 2, immediately following its midnight launch. What a coincidence. We think not! Interestingly enough, a drastic upwards shift, starting at 10AM, eventually lead to a spike of 15% increase in traffic. Looks like RDR2 is a great game, but it doesn't get your rocks off like Nutaku 😉Seems like gamers logged back onto Nutaku for a much needed energy boost. The spike lasted for a few hours, just enough time for adult gamers to check up on their prized Nutaku games and polish the family jewels.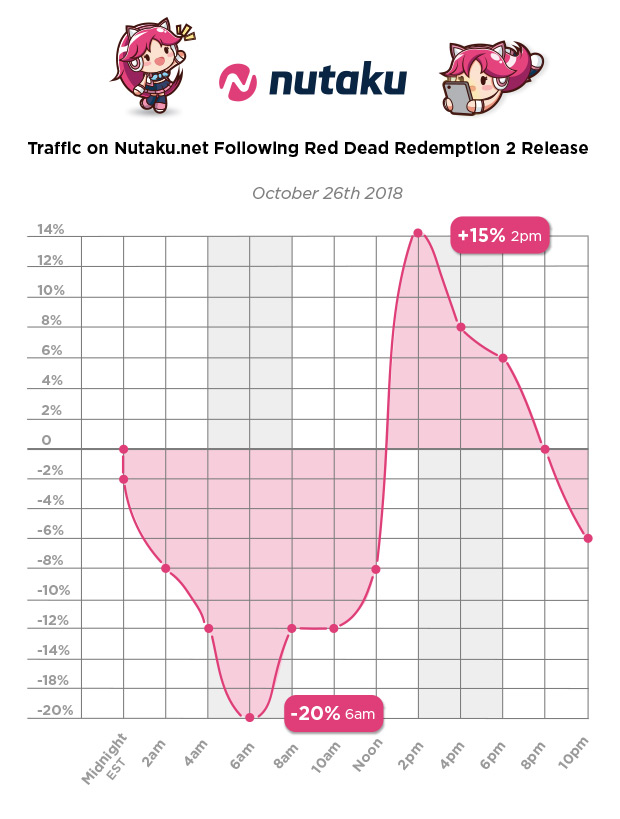 That wasn't the only thing we noticed, when breaking down the visits by state, we saw the biggest dip in traffic coming from our Southern states. Our analysts documented a 68% drop in traffic from Texas, 55% decrease from Georgia, and 46% in Illinois. Yeehaw! We imagine they were excited to saddle up for the coveted Western title, Red Dead Redemption 2.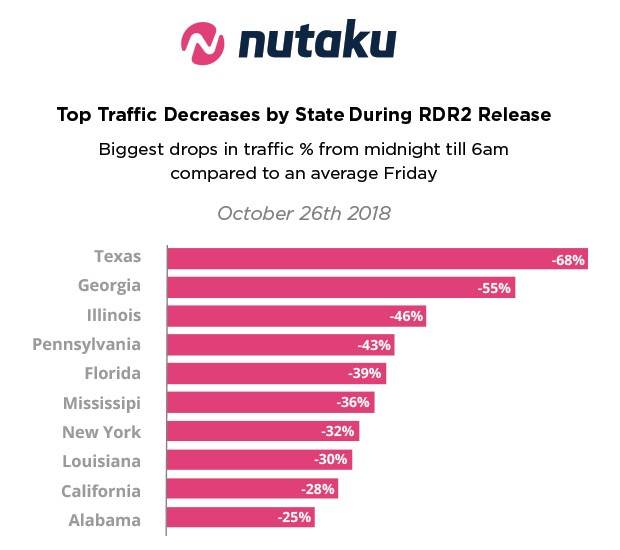 We studied the top game genres played on Nutaku, during the traffic spike between 1PM and 8PM (ET) and what we noticed was quite interesting.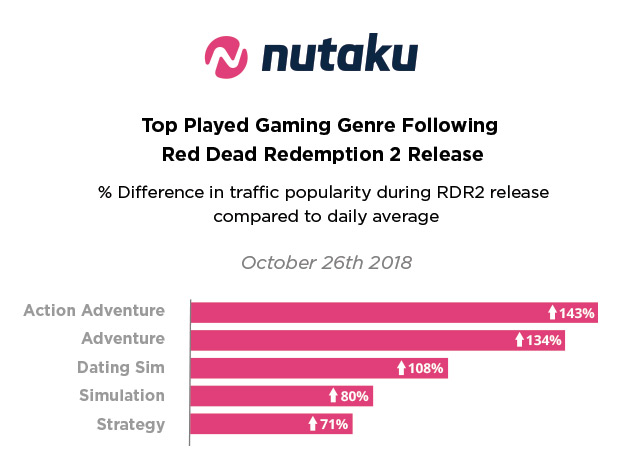 Our data analysts found that "Action Adventure" games were 143% more popular on the day of the Red Dead Redemption 2 release when compared to daily averages. "Adventure" games also increased in popularity by 134% above their average level. It's no secret that Red Dead Redemption is a renowned "Action Adventure" game. However, it looks like gamers came back to Nutaku to get their PC gaming fix for the day and followed suit with their favorite action-packed adult games.
Let us know what favorite action adventure games you enjoy on our socials @NutakuGames!