New Download Game Store Design!
12/22/2016
Development Update
Nutaku is implementing major changes to the downloadable games store this week, beginning with a long-awaited overhaul aimed at helping our users browse and make purchases from the expanding library of adult games. We spent many months gathering your feedback and working to implement the requested features; now, we're proud to roll out these major changes.
Here's what you can look forward to next time you login:
• Users will now have the ability to purchase games directly with their credit cards rather than through Nutaku gold.*
• A section has been reserved for game developer & publisher information on every page, letting potential buyers know which studio created each game.
• Available languages are clearly labelled.
• File sizes for games is now included alongside system requirements.
• Site-wide performance optimization will deliver faster loading times, even though pages are now more information and graphically intensive.
• General usability improvements in layout and purchasing.
*You will not be able to purchase directly with Paypal; if this is your preferred payment method, you must first purchase Nutaku gold.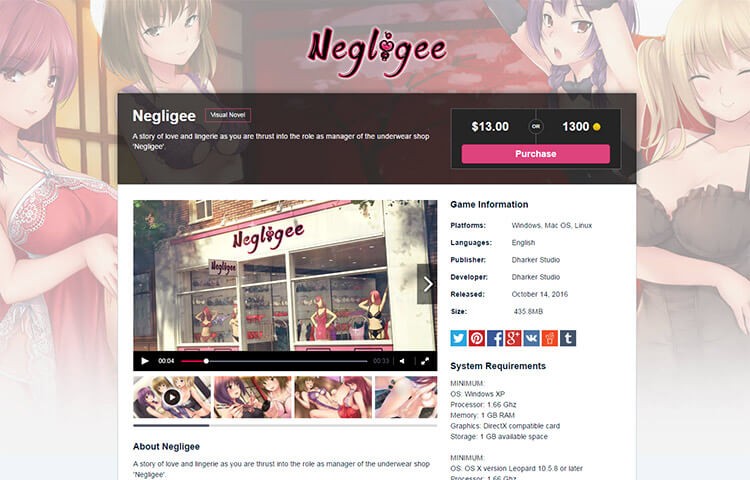 This is the first stage of a multi-phase initiative that will continue to add new features to the downloadable store. As the selection of games continues to grow, it's quickly become apparent that a search function will be necessary in the near future. We also plan to better serve users with specific fetish interests by adding sorting by content tags, which should enable genre-savvy enthusiasts to hunt down games that cater to their interests. Likewise, tags for publishers, developers, languages, and operating systems will also be supported, providing the ability to quickly move through the library to discover content suited to your tastes.
There are further plans on the horizons for dealing with the eventual introduction of features such as DLC, which we anticipate will play a greater role in adult game development as the industry eventually catches up to its more mainstream counterparts. For now, rest assured that the Nutaku design team is constantly looking for ways to better deliver content to users, so if you have any stellar ideas or feedback you'd like to send our way, send a note to community@nutaku.com. We read through every email that comes in!
Best regards,
The Nutaku Team