Kamihime Project Pre-Registration Has Begun!
01/06/2017
Game Announcements

Hello and happy New Year! Nutaku is back from the holidays and ready to kick off 2017 in the best way possible: by announcing the upcoming arrival of a freshly translated hentai JRPG, Kamihime Project. Beginning this week you'll be able to pre-register for this awesome new game for free, then receive exclusive content automatically added to your Nutaku account when it launches in February.
Kamihime Project is a title that's worth getting genuinely excited about, particularly if you're a fan of the adventure-hentai genre that Japanese gaming giant DMM specializes in. As you can watch in the video from the original game below, Kamihime features some of the finest character art and animations yet seen in a game hosted by Nutaku, alongside the usual weekly events and content updates which help keep DMM's online titles incredibly engaging. It's a fascinating game that proved immensely popular in Japan and we're looking forward to seeing how it's received by English-speaking audiences.
One of the most unique elements of Kamihime Project is its unit roster, which is populated by a diverse selection of mythological figures from cultures around the world. Greek monsters, Egyptian Gods, and Norse heroines fight side-by-side in a mix-up that hasn't been seen in the west since the classic PC game Age of Mythology, and from everything we've viewed so far it's a winning combo. If you've ever wanted to build a team of warriors including a busty Brunhilde, a fearsome female chimera, and a gender-swapped version of Amon-Ra, look no further! Kamihime is a wild mix of fantasy and re-imagined famous figures from classical texts.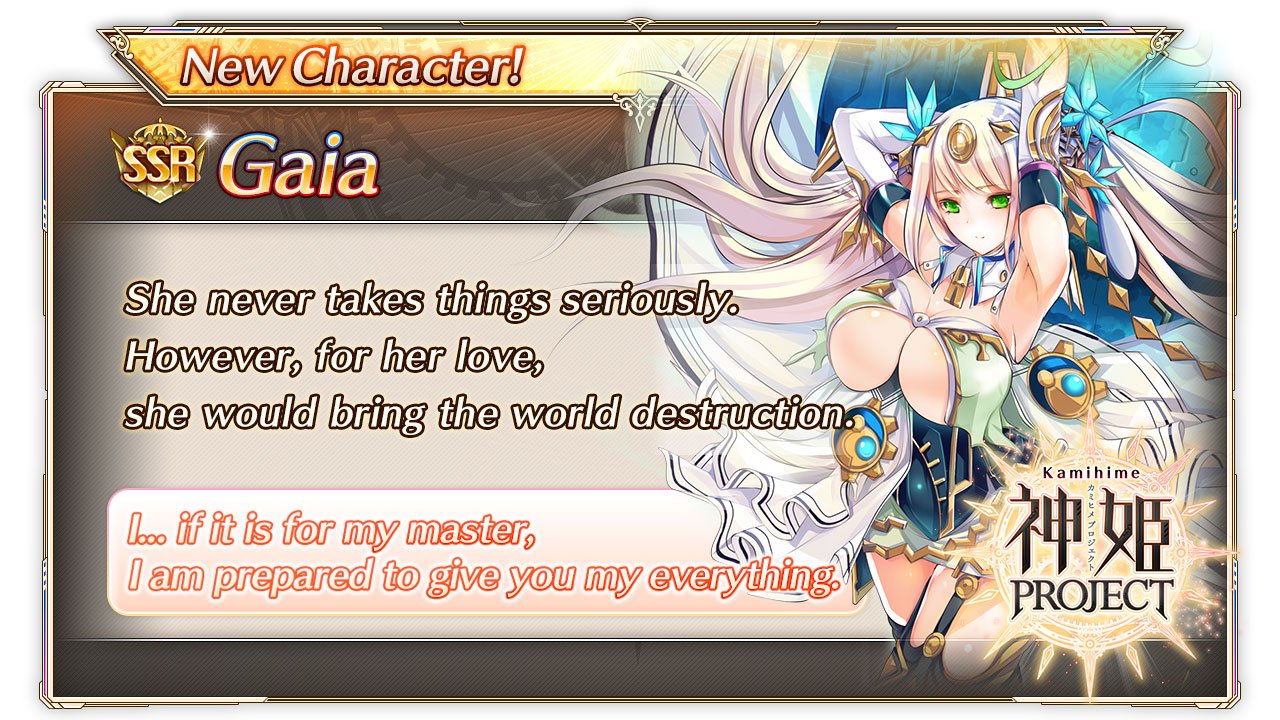 The English-language version of Kamihime Project is being produced directly by the original Japanese development team, meaning you can expect the same level of care and attention that went into the original. You can follow the team on Twitter, where they will be providing updates about the games upcoming events and features.
While the release of Kamihime Project is an event to get excited about, there's even more fantastic games on the horizon that will be releasing on Nutaku over the next 12 months. Those who have been following our blog and press releases will recall that Nutaku announced two major funding initiatives in 2017, where we opened our doors to independent developers with promising ideas and asked them to come to us for assistance with bringing their games to a market-ready state. We're happy to say that the response was overwhelmingly positive and the vast majority of these new partnerships will be launched this year, all of them on Nutaku.net.
It's going to be an exciting year ahead and we're thrilled to have you guys here with us!
Regards,
The Nutaku Team