Behind the Scenes with the Nutaku Team: Interview 1

As many of you have noticed, the Nutaku site underwent significant redesigns in the previous months. Our hard-working team is constantly looking for ways to improve its navigability and functionality, so for those who are curious about the people working on the changes, we'll be publishing a series of brief interviews designed to give our members a better look into how Nutaku works behind closed doors.
First up: the head of the design and development team!
Who are you?
I'm Jesse, Lead of Design and Development at Nutaku. You'll find me watching the Nutaku Twitch streams as NutakuCyrax.
What does that mean and what do you do at Nutaku?
I wear a lot of hats at Nutaku. First, and foremost, I'm in charge of overseeing the design and coding of the Nutaku website. I designed the entire user interface of the website, and I also oversee the creation of all the graphics that end up on Nutaku, like the thumbnails, skins, etc.
In addition to all that I also manage the design of all our marketing materials, such as web advertisements and any print work we do. I manage all the workflow of our small team of coders, designers, and QA.
How long have you worked at Nutaku?
I've been here since the very beginning - including the first meetings where we struggled to find a name for the site, where we almost ended up as Katana Games. I designed the first home page, which was pretty bad (laughs), and the new one we just launched a little while ago, which I like quite a lot.
Can you talk about some upcoming things you're working on?
There are three features we have coming up that I'm excited for!
First and foremost is the downloadable games service, which is coming very soon. Users will be able to directly download some of the best adult games available today directly through the website using Nutaku gold. We're working hard to make this process as easy and user intuitive as possible, and what we have for you on launch is just the beginning. We have some secret projects in the works that should make this feature go from great to amazing, but these will come after the initial launch. We're super excited to release the next evolution for Nutaku!
The second is dynamic templates for the website. For dynamic templates we'll be using a device call to tell whether a user is on their phone, tablet, or on PC and depending on the device we'll show the user a different version of the website. What this means is that if you visit Nutaku on your phone you'll be using a super light version of the website, so everything should load as quickly as possible. Right now, since we support all devices with one website, it means the code can get heavy on older devices or slow wifi. It sounds boring, but we're really excited for this feature as it'll be great for all our users, whether they are on mobile or PC!
The third thing is localization into different languages. This is something we're still planning, but we'd love to translate the Nutaku website into several different languages. We have dedicated fanbases all over the world, and we'd like to give them the most comfortable browsing experience possible. Obviously right now that would only affect the Nutaku website itself, but it's a step forward for future multi-language game titles!
We of course are pushing new bug fixes every week and optimization changes.
What are some of the challenges you have faced working at Nutaku?
I think the most challenging part of the project is deciding how to prioritize the work that needs to get done. When Nutaku first launched we had a very small team and a smaller features list; at that point there were no more than a few thousand people visiting the site each month, mostly from 4chan and other forums. Now there's over 20 million sessions and about 13 million users on Nutaku every month, so there's a lot more pressure to deliver as smooth an experience as possible. Everyone is always surprised to hear how fast we've grown in such a short amount of time, but that also means there's still a lot of foundation to lay.
The challenge comes with trying to keep up with such a fast growing project; I think we've accomplished a ton of awesome goals in the past year, but there's so much more to do. Our mission is to produce as many website features as possible, without affecting the quality of our platform… and some of our long-term goals are also going to require huge revamps to the site.
What kind of involvement do you have with the games?
I like to think of Nutaku as similar to Steam (without the content restrictions); we provide access to great games for our awesome users to play, but the team that manages the Nutaku website is not the same as the developers of the individual games. Each game has its own independent development team. I speak with all the game development teams of course, but I don't actually work on any of the games themselves. I just make websites things happen :)
Last but not least, who's your favorite Nutaku girl?
I'm going to cheat and pick from a game that's still only in internal beta. Daria Hitsuyu, the AK-47 girl, from Shooting Girl.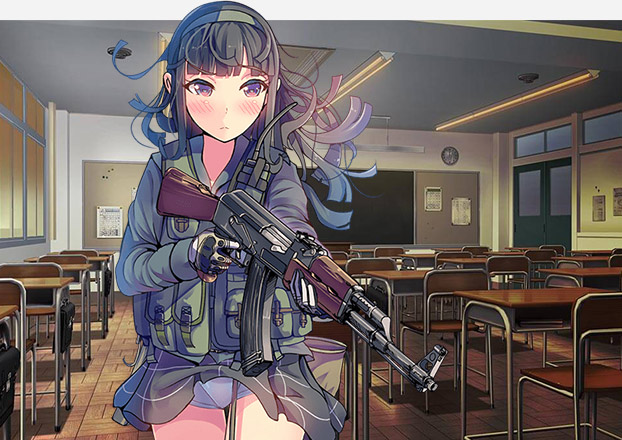 We hope you enjoyed this first interview with a Nutaku team member! We look forward to doing more of these soon!
All the best,
The Nutaku Team