Have You Heard?

Nutaku finishes the month of June with another busy week. The visual novel, Crimson Gray by Sierra Lee was successfully launched and covered by many journalists. Perhaps it is the captivating storyline of a wild and intense romance that caught their attention! In addition, two pre-registrations opened for the highly expected real-time battle game, Armor Blitz, and the seductive title, Kingdoms of Lust. Armor Blitz launches you in the middle of WWII with army girl tanks and Kingdoms of Lust immerses players into royalty where you take charge of your army as well as your noble servants. Both games grant impressive rewards when you pre-register. Keep reading for all the details on these diverse titles!
GAMES
The Psychological Thriller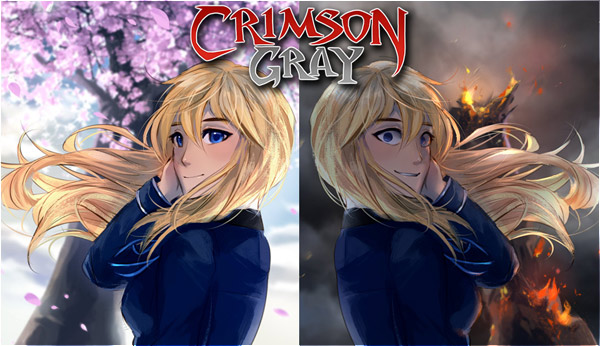 Crimson Gray is a tumultuous psychological visual novel that will transport you into a wild and intense romance between two young lovers. You will follow an in-depth story line that follows the path of a young man who begins to lose all hope and purpose in life. In the midst of his depression-filled and monotonous life, he finds a beautiful young girl, Lizzie, who adds a much needed spice to his existence. She's affectionate and vibrant, yet violent and unpredictable. Although her unstable nature may prove to be more than he can handle, she immediately turns his life to a bright crimson. In a story with multiple outcomes and vivid, uncensored scenes, this tale could unfold as one of heartbreak, insanity, or perhaps even a happy ending. It is up to you on how to navigate this relationship as every choice you make affects the mental state of the characters in this suspenseful thriller now available on Nutaku.
pre-registrations
Your Tanks Are Ready
Find out why everyone is talking about Armor Blitz, the upcoming title with strategic real-time battle. After assembling an army of anime style tank girls from WWII, you must lead the beautiful tanks to fight against the invading force of the Corruption. As commanding officer, it is up to you to grow your army, manage your tanks, and conquer new territory. Take part in this epic story while you engage in a mixture of traditional collectible card game mechanics and real-time tug-of-war lane battling. You will be able to help your squad by calling in reinforcements and carefully deploying your tanks- drag and drop each unique character using strategic timing and ability placement. Throughout your journey, you will also learn that you will need to manage your tanks off the battlefield. Give your favorite tanks gifts to build an intimate relationship with them. As your connection deepens, you will unlock smoking hot scenes and strengthen their abilities. Pre-register for Armor Blitz to get Sarah, the Super Pershing, a 5-Star Medium tank and 800 Cores once the game launches. Armor up for the adventure on Nutaku today!
The Kinky Kingdom
Get ready to enter the vast Kingdoms of Lust as the almighty ruler and tactician of the Empire. Build an undefeatable army and lead them to conquer the world. In this multiplayer strategy game, you'll be able to test your skills against other players all while having the option to create strong alliances or choose to keep them as enemies. Your court of Aristocrats are especially skilled in their craft but it is up to you to upgrade their special skills even further. Throughout your journey, visit the temple and receive blessings of rare rewards, essential resources and army members to defeat the enemies! In this realm of endless war, there is also a desire to keep people sexually satisfied. Discover the secrets of the kingdom as you get to know your sexy noble servants in ways you cannot imagine. When the game launches, this free-to-play title offers 555 items and 200 000 Diamonds to those who have pre-registered. Pre-register for the Kingdoms of Lust on Nutaku today!
All the best,
The Nutaku Team