Harem Heroes Gets Even Wetter with Spring Break
If you don't have time for a vacation, why not enjoy a staycation with even more Harem Heroes girls to get wet. During this sexy, new update you can snatch Spring Shehera from the clutches of the Dark Lord and rescue Spring Rumiko from the evil Ninja Spy. Win girls in 'Epic Pachinko', including: Deitra, Lola and Virginia. Complete 12 of the 14 Spring Break 'Daily Missions' and Spring Spirit will join your Harem!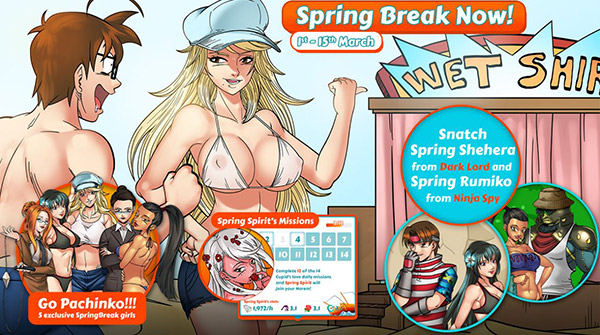 For those unfamiliar with the game, enter a crazy universe where manga girls have gone wild for sex! Create your own harem of the horniest hentai maidens and defeat opponents in thrilling sexual contests. In Harem Heroes, you'll enjoy a real RPG with tons of uncensored hentai content. Explore a mirror universe of video-game girls, recruit them to your team, grow your harem, and build up your hero to defeat other players in strategic harem battles.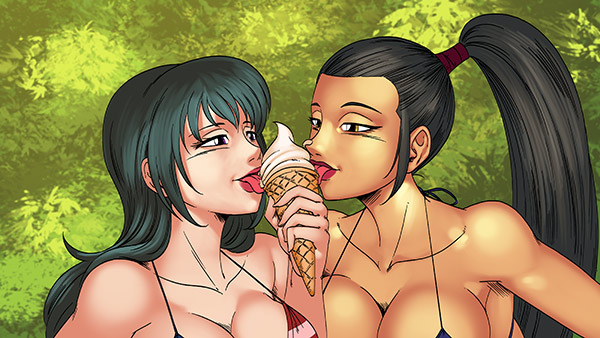 An original story embedded with manga culture! Discover the best porn games adventure through the visual novel format with plenty of humor and hilarious manga references. Enjoy hundreds of uncensored hentai illustrations, accessible to all players. Meet many sexy girls during your missions, invite them to join your harem, make it grow, and defeat your opponents in harem battles. Discover Harem Heroes' advanced game design which allows you to lead battles with different strategies, stat management and impress the judge with the best sexual performance.
Level up your girls by teaching them how to become wonderful sexual performers and bring your harem to its ultimate capacity. Shower the girls of your harem with gifts, grow their affection to increase their battle skills and see them express their gratitude by undressing for you. Get the best equipment at the market to raise your sexual skills to the top. Increase your harem battle performance and defy players from all over the world to take top spot on the international leaderboard. Can you create the mightiest harem of this oversexed world? Find out in
Harem Heroes!
Happy travels!
The Nutaku Team