Nutaku's First-Ever Lewd Gaming Championship Winners!
This Fall, Nutaku broke the internet once it announced its expansion into eSports with the launch of its first-ever Adult eSports Tournament. Besides the impressive fact that Nutaku was bringing eSports and anime tiddies together, the adult gaming platform was offering up a substantial prize pool of $25,000 USD for the 64-player bracket tournament. YouPorn rewarded all carefully selected participants with a 12-month Premium Membership and an exciting chance to strike gold with HUGE monetary prizes.

Participants from all over the globe have been battling it out the last few weeks playing one of our PvP games. We all know why you're here so let's cut to the chase and have a look at the 4 combatants that made it to the semi-final rounds of Nutaku's Lewd Gaming Championship!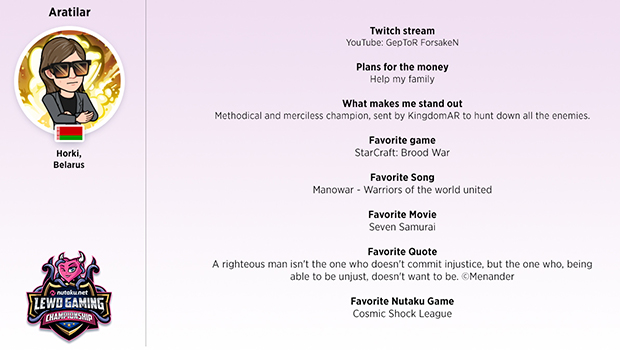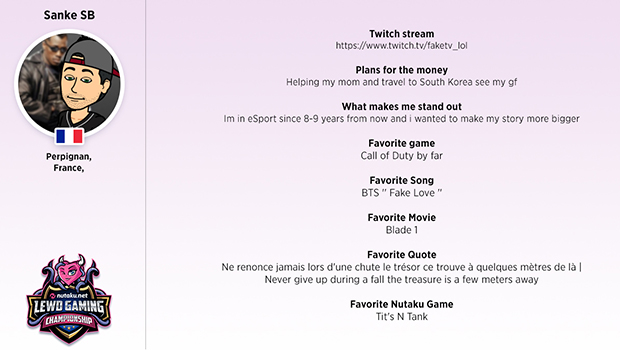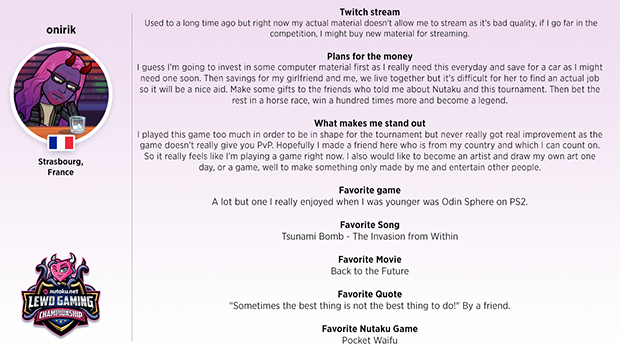 Our awesome finalists were scattered across the U.S, France, and Belarus! We wanted to get to know these kick-a*s gamers and came to find out that these folks are actually quite interesting ….so we threw in another competition within a competition. This giveaway was for our cherished community members that were closely following the tournament as updates unveiled day after day. Based on each finalist's profile, we gave community members a chance to vote for which finalist THEY thought would win. Who do you think has the most heart, wit, stamina, skills, and style to become the reigning champion? Our Nutakrew went ahead and casted their votes! Whoever voted for the ACTUAL Champion was automatically entered into a contest to win one of 10 packages of 10,000 Nutaku gold (a value of $100 each)!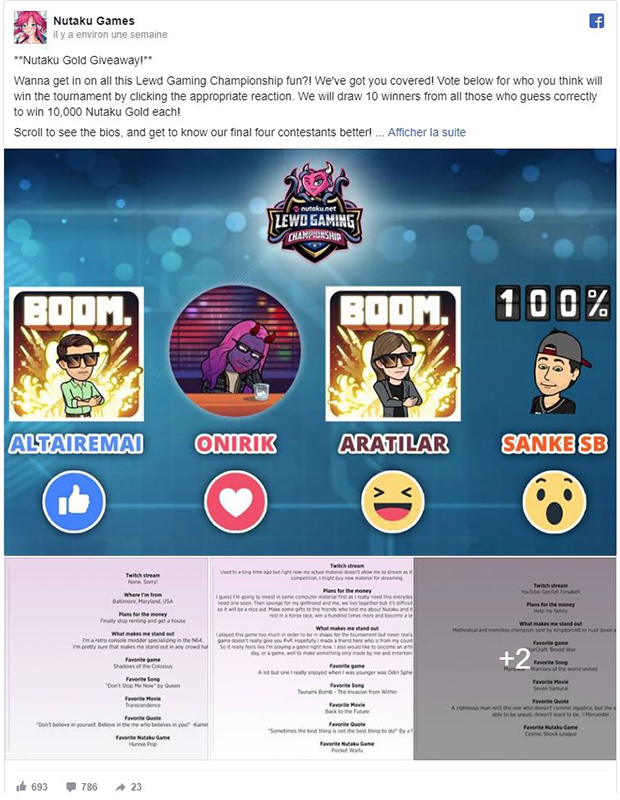 Our Final 4 fought long and boy did they fight hard..but we all know that there could only be one winner. Well…..four, in this case, because we're Nutaku and we're generous AF! *Drumroll* please for our winners!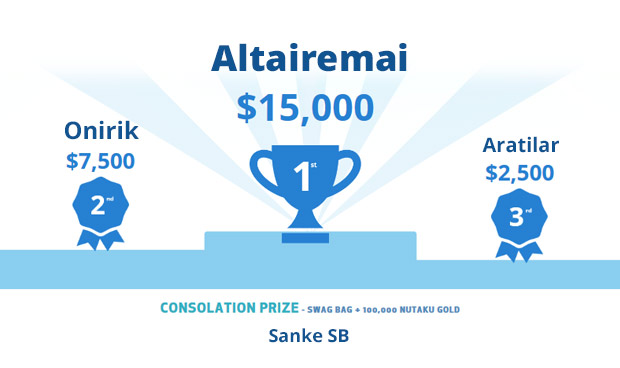 Congratulations to all our relentless contestants! Sanke SB wins 100,000 Nutaku Gold and a hentai gaming swag bag with 4th place, Aratilar gets to bring home $2,500 USD with 3rd place, and Onirik wins an entire $7,500 USD for earning our runner-up title!
Last, but not least, a huge shout-out goes to the ultimate winner of the Lewd Gaming Championship, Altairemai, who gets to bring home the bacon with the ultimate grand prize of $15,000 USD!
Not only can he now get a house and stop renting, but he now also has the most bada** bragging rights of all time– winning the Championship title to the first adult eSports tournament ever?! We mean… that's ICONIC & definitely going down in history.
Take a peak at some live streamed footage of the final battle! Click & scroll down to see the full video of the action-packed finale.
A big congratulations also goes out to our 10 gold package prizewinners for making the right choice!
We'd like to thank everyone that took part in this amazing Adult eSports tournament- all our fierce participants, YouPorn for providing their memberships, and the entire community for getting so involved! We hope you enjoyed this just as much as we did. Let us know what you'd like to see next, on our socials @NutakuGames