AgentShawnee's Naughty Kingdom Tips & Tricks
Naughty Kingdom is one of the newest games here on Nutaku. It is a puzzle game but has a unique play style compared to the rest of the puzzle games here which makes for a fun new experience.
Instead of swapping tiles or bursting bubbles, this game gives you a board with tiles that you can slide in any direction that has an open space. The kicker is they move all the way over! You have to slide them together to increase their value and you can only use the tiles that work with the objective at hand.
For example: If you are fighting a baddie, only the red attack tiles will be used and each turn will only count the highest tile used. Or if you are at a healing spring you can only use the green healing tiles and only the highest valued tile will be used to heal you. So this game really takes some strategy!
I have been powering through this game and wanted to provide some tips and tricks to help you make your way through the levels and unlock all the harem girls!
#1 Prepare!
When battling a monster, regenerating your health, or saving a damsel in distress, you will often already have a tile that shows the level of your goal. This is an excellent time to start building up your other tile colors.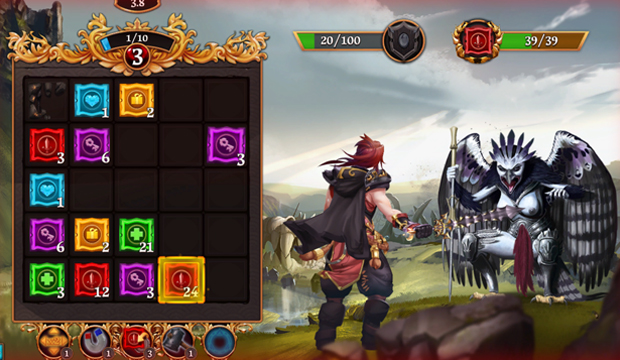 For example: This red tile is on a tile that doubles it so it's ready to destroy the monster! I decided to leave the tile there and combine purple tiles moving them to the left so the red tile does not move.
#2 Set an alarm to play!
There are multiple timed parts of Naughty Kingdom you can leverage to get the most out of the game.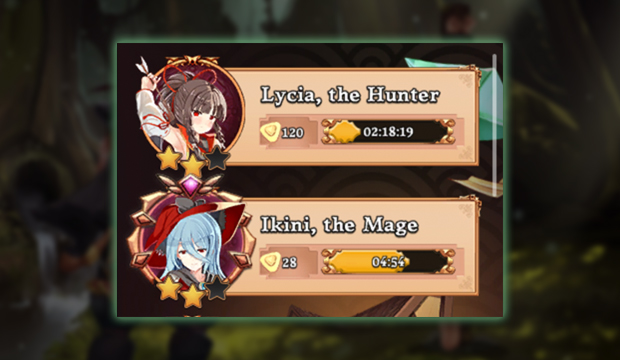 Each of your harem girls produces coins and the time is displayed on their tab. Set your alarm for the highest paying girls to make sure you can cash in on the coins as much as possible!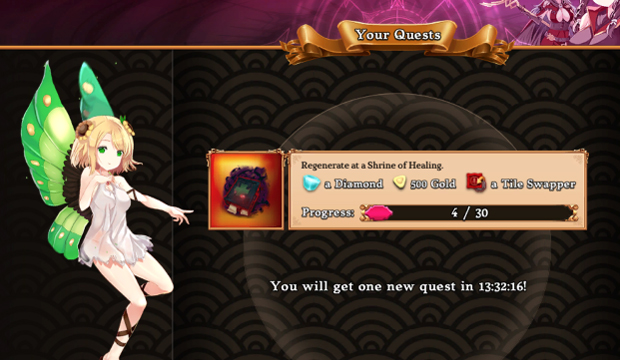 Every time you finish a quest you are given another one in 14 hours. When you finish a quest set a 14 hour timer so you can get the most rewards possible!
Energy regenerates with time as well so if you want to maximize that free energy it's always helpful to set a reminder!
#3 Level up your skills!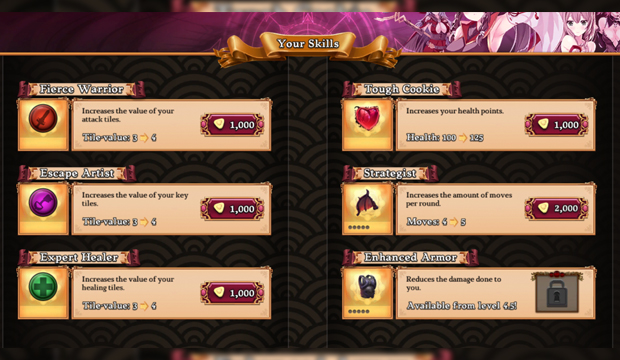 It can be easy to get so sucked into the game that you forget to upgrade your skills. I've done it and then suddenly can't figure out why I cannot win a level. When you level up your skills it really gives you the advantage on the playing field. You can increase the value of tiles, the amount of moves you get, and reduce damage taken.
#4 Use your items wisely!
As the game progresses you will earn items you can use in-game. It can be tempting to use them to breeze through a level but it's way better to save them for when you are in a super tough spot!
#5 Earn as many gifts as possible!
If you want to make some serious coin make sure you earn as many gifts as possible! You do this by matching the gift tiles and during a damsel in distress level they will be cashed out if you save her. The higher the value the better the gifts! Make sure you gift your girls the items often and figure out what their favorites are so you can level them up as fast as possible!
Bonus tip: You can find out a lot of facts about your harem girls by talking to them.
Naughty Kingdom is a strategic game but part of it comes down to the pure luck of which tiles will show up next. Hopefully these tips and tricks will help you turn the tides of battle no matter your luck!
Playing through these levels are super rewarding as you get to unlock some awesome scenes with sexy harem girls.
Do you have any special tips or tricks? Let us know on Nutaku's socials @NutakuGames!